Description
Validity: 1 Year
DT Pro Tool is a multi-brand solution that allows you to service Huawei, Xiaomi, ZTE, Motorola, VIVO, Nokia, Asus, Oppo phones, and others.
First in the world solution for Repair IMEI on Xiaomi Qualcomm phones with dual SIM (you can change both slots).
You can change 4 HW IDs during 1 year.
Old DT Pro user? Find out how to activate
What you get:
Regularly updated list of supported phones;
Exclusive solutions such as Xiaomi Qualcomm IMEI repair for both slots (IMEI1/IMEI2) without damaging security;
Possibility to decode a device even if it has an unknown or new firmware version;
Exclusive models supported for DT Pro and hot downgrade files for Xiaomi, Nokia, Motorola, and Huawei;
When you buy DT Pro, you get all the modules, you don't need to pay credits for auth Downgrade, Flash or for changing IMEI for Nokia or Xiaomi Qualcomm phones (RSA Type)
What`s new:
Huawei Qualcomm Features
Authentication
Downgrade Models
Repair IMEI (all models in Factory Mode)
Remove FRP
Models rebrand
Xiaomi Exclusive Features
Qualcomm Authentication e-Token
Disable MTK Authentication
Qualcomm Repair IMEI for DS Models
Qualcomm Remove FRP
MTK | Qcomm Files
Read full information via EDL, Qualcomm Mode
View Device Information (Board, Platform, s/n, OS, Label Name)
EFS Reset via Terminal mode
EFS Reset via EDL, Qualcomm Mode
Erase FRP via EDL, Qualcomm Mode
Partition Viewer in EDL, Qualcomm Mode, Support Engineer Files
Xiaomi (Qualcomm series) authentication bypass
Flashing Fastboot & EDL, Qualcomm Mode
Read/Write QCN
Format Important Data!!
Write IMEI (Single, Dual SIM, NV)
Repair IMEI for SDM660, SDM665, SDM439, SDM710, SDM712 (New Security Supported for DUAL SIM)
Enable Diag
Explore Xiaomi Internal Info
Reset Mi Account via flashing patch files
Decode Bootloader via flashing patch files
Nokia HMD phones
Repair IMEI for new Qualcomm models
Nokia 1.3, Nokia 1.4, Nokia 3.2, Nokia 4.2, Nokia 6.2, Nokia 7.2
Remove FRP (without credits), just enter EDL Mode and perform the operation.
Read full information via EDL, Qualcomm Mode
View Device Information (Board, Platform, s/n, OS, Label Name)
EFS Reset via EDL, Qualcomm Mode
Erase FRP via EDL, Qualcomm Mode
Partition Viewer in EDL, Qualcomm Mode, Support Engineer Files
Flashing Fastboot & EDL, Qualcomm Mode
Read/Write QCN
Write IMEI
Enable Diag Rooted Devices
Motorola phones
Read full information via Fastboot
View Device Information (Board, Platform, Factory Code, Label Name)
Factory Reset via Fastboot
Reset Security via Fastboot
Repair Network via Fastboot
Flashing with additional options (Factory Lenovo protocols)
Downgrade Security for MTK models (One Macro, E6 Plus, G8 Play and others)
Auth for E6 Plus, G8 Play, E6 Play, One Macro
Disable & Enable Factory protocol in Scatter (MTK models)
Repair IMEI for Qualcomm models
BarCode MTK Calculator (e-token based) MTK models
Mediatek Chipsets
AUTHENTICATION in one click
Motorola, Huawei, Xiaomi, Oppo, HTC, and more models supported
Bootloader Factory Authentication for various famous brands
Write XML Factory firmware
Huawei Hisilicon
Repair PCB
Decode Bootloader
REBRAND, DOWNGRADE, and more features supported
Kirin 710 / Kirin 810 / Kirin 820 / Kirin 980 / Kirin 990 (DECODED/AUTHORIZED DEVICES with Bootloader decoded)

Write NV, Write OEM, Write PCB Info, Write BT, Write Wi-Fi, Rebrand, Repair SN, Write New SN
OPPO, VIVO models
Read full information via EDL, Qualcomm Mode
View Device Information (Board, Platform, Factory Code, Label Name) promp+info
AUTHENTICATION for MTK models
Flash / Format for MTK models
Reset EFS via EDL, Qualcomm Mode
Remove FRP via EDL, Qualcomm Mode
Repair IMEI (some models)
Partition File Viewer
Erase/Write/Flash partial and complete (Qualcomm Mode)
Read/Write QCN
Features and Tested Models:
HUAWEI HONOR – reported by customers
Reset Bootloader, Remove FRP, Write Firmware (Test Mode), Write Xloader, Write Board Software, Rebrand via Test Point, Write OEM for the following devices:

Y5 2019
Y6 Prime 2019
Y6 Pro 2019
Y6 2019
Honor Play 8A
Honor 8A Pro
Honor 8A
Enjoy 9e
Honor 8S
AMN-AL10, AMN-L03, AMN-L21, AMN-L22, AMN-L23, AMN-L29, AMN-LX1, AMN-LX3, AMN-LX9
JAT-L21, JAT-L29, JAT-L41, JAT-AL00, JAT-LX1
MRD-L03, MRD-L11, MRD-L21, MRD-L41, MRD-AL00, MRD-TL00, MRD-LX1, MRD-LX1F, MRD-LX3
KSA-AL00, KSA-AL10, KSA-L22, KSA-L23, KSA-L29, KSA-LX9

Remove FRP, Write Firmware (Test Mode), Write Xloader, Write Board Software, Write IMEI for the following devices:

DRA-AL00, DRA-L01, DRA-L02, DRA-L21, DRA-L22, DRA-LX2, DRA-LX3, DRA-LX5
DUA-AL00, DUA-L22, DUA-TL00
LUA-L01,LUA-L02, LUA-L03, LUA-L13, LUA-L21 V2, LUA-L21, LUA-L22, LUA-L23, LUA-U03, LUA-U22
TIT-AL00, TIT-L00, TIT-TL00, TIT-U02
MYA-AL00, MYA-L02, MYA-L03, MYA-L11, MYA-L13, MYA-L22, MYA-L23, MYA-L41, MYA-TL00, MYA-U29

Repair / Reset Bootloader, Remove FRP, Write Firmware, Write Xloader/board Software, Write NV, Rebrand, Fingerprint, S-OFF, Write IMEI for the following devices:

AGS-L03, AGS-L09, AGS-L09V, AGS-W09, AGS2-L09
ATH-AL00, ATH-TL00, ATH-TL00H, ATH-UL00, ATH-UL01, ATH-UL06
ATU-AL00, ATU-AL10, ATU-L11, ATU-L21, ATU-L22, ATU-L23, ATU-L29, ATU-L31, ATU-L42, ATU-LX1, ATU-LX3
AUM-AL00, AUM-AL20, AUM-L29, AUM-L41, AUM-TL20
BAH-AL00, BAH-W09
BKK-AL00, BKK-AL10, BKK-L21, BKK-LX1, BKK-TL00
CAM-L32
CAN-AL00, CAN-L01, CAN-L2, CAN-L3, CAN-L11, CAN-L12, CAN-L13
CAZ-AL00, CAZ-AL10, CAZ-TL10
CPN-L09
DIG-AL00, DIG-L01, DIG-L03, DIG-L21, DIG-L21HN, DIG-L22, DIG-L23
DLI-AL10, DLI-L22, DLI-L42, DLI-TL20
DUB-AL00, DUB-AL20, DUB-L22, DUB-LX2, DUB-TL00
FDR-A01L, FDR-A04L
G535-L11, G6-L11, G620S-L03, G630-U10, G7-L01, G7-L03, G7-L11, G7-UL20
H1611, H1711
H1511, H1512
KII-L05, KII-L21, KII-L22, KII-L23
KIW-AL10, KIW-AL10G, KIW-L21, KIW-L22, KIW-L23, KIW-L24, KIW-TL00, KIW-TL00H, KIW-UL00
KOB-L09, KOB-L09A, KOB-W09, KOB-W09C, KOB-W09CHN
LDN-AL00, LDN-L01, LDN-L03, LDN-L21, LDN-L22, LDN-LX1, LDN-LX2, LDN-LX3, LDN-TL00, LDN-TL10
LND-AL00, LND-AL30, LND-AL40, LND-L21, LND-L22, LND-L23, LND-L29
MLA-AL00, MLA-AL10, MLA-L01, MLA-L02, MLA-L03, MLA-L11, MLA-L12, MLA-L13, MLA-TL00, MLA-TL10
SCC-U21
SCL-AL00, SCL-L01, SCL-L02, SCL-L03, SCL-L04, SCL-L21, SCL-L31, SCL-L32, SCL-TL00, SCL-TL00H, SCL-U23, SCL-U31
SLA-AL00, SLA-L02, SLA-L03, SLA-L22, SLA-L23, SLA-TL00
TRT-A1, TRT-AL00, TRT-AL00A, TRT-L01, TRT-L02, TRT-L03, TRT-TL10A, TRT-L21, TRT-L21A, TRT-L22, TRT-L23, TRT-L53, TRT-LX1, TRT-LX2, TRT-LX3
Y550-L01, Y550-L03, Y538, Y635-L01, Y635-L03, Y635-L21, Y625-U00, Y625-UXXX

Decode Bootloader, Remove FRP, Write Firmware, Write Xloader, Write board software, Write OEM, Rebrand, Downgrade for the following devices:

ALE-CL00, ALE-L01, ALE-L02, ALE-L03, ALE-L04, ALE-L21, ALE-L22, ALE-L23, ALE-L52, ALE-L53, ALE-TL00, ALE-UL00
ALP-AL00, ALP-L09, ALP-L29
ANE-AL00, ANE-AL00I, ANE-L01, ANE-L02, ANE-L03, ANE-L12JPZ, ANE-L21, ANE-L21J, ANE-L22, ANE-L23, ANE-L42, ANE-LX1, ANE-LX2, ANE-LX2j, ANE-LX3
BAC-AL00, BAC-L01, BAC-L03, BAC-L21, BAC-L22, BAC-L23, BAC-TL00, BAH-L09
BKL-AL00, BKL-L09, BKL-AL20
BLA-A09, BLA-AL00, BLA-L09, BLA-L29
HWV31
HWV32
BLL-L21, BLL-L22, BLL-L23
BLN-AL10, BLN-AL10B, BLN-AL10C, BLN-AL20, BLN-AL40, BLN-L21, BLN-L21HN, BLN-L22, BLN-L23, BLN-L24, BLN-TL00, BLN-TL10
BND-AL00, BND-AL10, BND-L21, BND-L21C, BND-L24, BND-L31, BND-L34
BTV-DL09, BTV-W09
CAM-AL00, CAM-L03, CAM-L21, CAM-L23, CAM-TL00, CAM-TL00H, CAM-UL00
Che1-CL10, Che1-CL20, Che2-L03, Che2-L12, Che2-L11, Che2-L23, Che2-UL00
CHC-U03
CHM-U01
CLT-AL00, CLT-L04, CLT-L04C, CLT-L09, CLT-L09C, CLT-L29, CLT-L29C
CMR-AL19
COL-AL00, COL-AL10, COL-L29, COL-TL00, COL-TL10
COR-AL00, COR-L29
CRR-L09, CRR-UL00
DUK-AL10, DUK-AL20, DUK-AL30, DUK-L09, DUK-TL30
EDI-AL10
EML-AL00, EML-L09, EML-L09C, EML-L022, EML-L29, EML-L29C
EVA-AL00, EVA-AL10, EVA-CL00, EVA-DL00, EVA-L09, EVA-L19, EVA-L29, EVA-TL00
FIG-AL10, FIG-L01, FIG-L02, FIG-L03, FIG-L11, FIG-L21, FIG-L22, FIG-L23, FIG-L31, FIG-LA1, FIG-LX1, FIG-LX2, FIG-LX3
FLA-L03, FLA-L21, FLA-L22, FLA-L23, FLA-LX1, FLA-LX2, FLA-LX3
FRD-AL00, FRD-AL10, FRD-L02, FRD-L04, FRD-L09, FRD-L14, FRD-L19
GRA-CL00, GRA-L03, GRA-L09, GRA-L13, GRA-UL00, GRA-UL10
H60-L04
HWI-AL00
HWT31
KNT-AL10, KNT-AL20, KNT-CL00, KNT-L09, KNT-TL10, KNT-UL10
LLD-AL00, LLD-AL10, LLD-AL20, LLD-L21, LLD-L21A, LLD-L22A, LLD-L31, LLD-L31A
LON-AL00, LON-L29
M300-L29
MHA-AL00, MHA-L09, MHA-L09B, MHA-L2AB, MHA-L29, MHA-L29B
NEM-AL10, NEM-L21, NEM-L22, NEM-L31, NEM-L51, NEM-TL00, NEM-TL00H
NEO-AL00
NMO-L22, NMO-L23, NMO-L31
NTS-AL00
NXT-AL10, NXT-DL00, NXT-L09, NXT-L29, NXT-TL00, NXT-TL00A, NXT-TL00B
PAR-AL00, PAR-LX1, PAR-LX1M, PAR-LX9, PAR-TL20
PE-TL10
PIC-AL00, PIC-LX9
PKL-L01
PLK-AL10, PLK-CL00, PLK-L01, PLK-L11, PLK-L21, PLK-TL00, PLK-TL01H, PLK-TL11H, PLK-UL00, PLK-UL10
PRA-AL00, PRA-AL00X, PRA-L01, PRA-L02, PRA-L03, PRA-L11, PRA-L21, PRA-L21HN, PRA-L22, PRA-L23, PRA-L31, PRA-LA1, PRA-LX1, PRA-LX2, PRA-LX3, PRA-TL10
RNE-AL00, RNE-L01, RNE-L02, RNE-L03, RNE-L21, RNE-L22, RNE-L22J, RNE-L23
RVL-AL09, RVL-AL10
SHT-AL09
STF-AL00, STF-AL10, STF-AL20, STF-L09, STF-L09S
VEN-L22
VIE-AL10, VIE-L09, VIE-L29
VKY-AL00, VKY-L09, VKY-L29, VKY-L29A, VKY-TL00
VNS-L01, VNS-L02, VNS-L03, VNS-L11, VNS-L21, VNS-L22, VNS-L23, VNS-L31, VNS-L53, VNS-TL00
VTR-AL00, VTR-L09, VTR-L29, VTR-L29B
WAS-AL00, WAS-L01A, WAS-L03, WAS-L03T, WAS-L21, WAS-L21A, WAS-L22, WAS-L22J, WAS-L23, WAS-LX1, WAS-LX1A, WAS-LX2, WAS-LX2J, WAS-LX3, WAS-TL10
Xiaomi / Redmi – reported by customers
Read Info, Remove FRP, Reset EFS, Bypass Mi account, Read / Write / Erase partitions, Flash / Factory Reset
Repair IMEI for Dual SIM Redmi 8, Redmi 8A, Redmi 7A, and more models:

MZB8458IN
M1908C3KG
M1908C3KH
M1908C3IC
MZB8255IN
M1908C3IG
M1908C3IH
MZB7995IN
M1903C3EG
M1903C3EH
M1903C3EI

Reset EFS / Repair IMEI (Qcom, e-token):

Redmi Note 8, Redmi Note 8T, Mi CC9E, Mi A3, Redmi Note 7 Pro, POCO F1, Mi MiX 2S, Mi MiX 3, Mi 8, Mi 8 EXPLORER, Mi 8 Pro/UD, Mi MiX 3_5G, Mi 8 SE, Mi CC9_MEITU, Mi CC9, Mi 9 SE, Mi9 LITE, etc.

AUTH for Xiaomi with MTK chipsets:

Redmi Note 9, Redmi 10X 4G, Redmi 9, Redmi 9A, Redmi 9C, Redmi 9C NFC, POCO C3, POCO M2, Redmi 9PRIME, Note 8 Pro, Redmi 6, Redmi 6A, Mi PLAY, Redmi Pro, Redmi NIKEL, all MTK CPUs supported for Authentication

Repair IMEI (both IMEIs) for Xiaomi QCOMM OLD MODELS like Note 6 Pro, Mi A2
Special Testpoint for Disable RSA in models like Xiaomi Redmi Note 8, Note 8T, Redmi 8, Redmi 8A, Redmi 8A Pro
Check the forum for the latest list of supported phones
How to activate DT Pro Tool:
Buy DT Pro Tool activation at website
As soon as your order is completed, we will send an activation code to your email.
Unzip the downloaded archive (password: WhosYourDaddy)
Run Manager Software
Enter your Email, password, and activation code
Press SIGN IN
Restart the software to LOG IN and confirm your registration.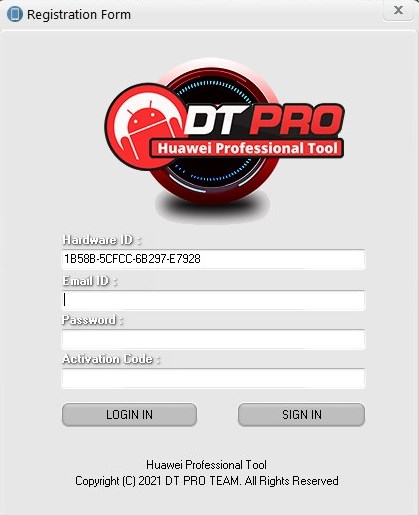 After performing these steps you can use the software
Package Content:
Activation code for DT Pro Tool
The product is digital – no packaging!
When we confirm your payment and process your order, we will send your activation code and detailed instructions to your email.
DO NOT EXPECT ANY CARD SHIPPED to you. The plastic card on the picture is only for design purposes.
* Developer provides support only for those phones which are on the list of supported. Not all servicing features can be applied to some supported models, due to the difference in hardware/software versions. Complete a list of supported models you can find on the official product page, or on the GSM forum.