Description
NCK Dongle – ACT1 Activation Features
MicroMax unlimited calculations – Server Based
Alcatel Android Unlimited calculations – Server Based
HTC Android Decoding
Read Huawei Gxxx series codes via cable, unlimited decoding – Server Based
Avivo unlimited calculations – Server Based
VeryKool unlimited calculations – Server Based
Huawei Qcomm modems
MessagePhone unlimited calculations – Server Based
Gtran unlimited calculations – Server Based
Spice unlimited calculations – Server Based
Chibo Mobiles calculations
and more…
NCK Dongle / NCK Box – CDMA Features
Samsung CDMA
ZTE CDMA
Flash, Decode, Repair
Auto model detection, auto flash chip detection to prevent wrong flashing (exclusive feature)
NCK Dongle / NCK Box – Iden/Palm Activation Features
Motorola Iden
Decode CNS Old
Decode CNS New
Palm Pixi/Pre
Auto detect phone model
Decoding method
Decodes phones with blocked counter
No flashing phone or installing Java Apps
4-Step decoding method
Where to find the serial number?
You can find your serial number using the NCK Main Module software.
Download the latest version of NCK Main Module software:
Run the Main Module software to read the serial number of your box/dongle.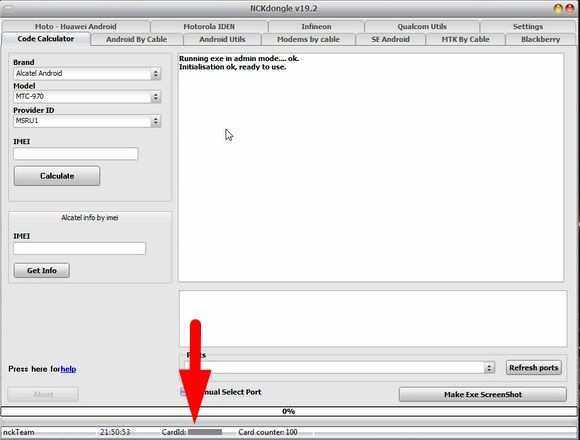 Note! Use NCK Box software for a box and NCK Dongle software for a dongle, not vice versa.
If you still have a valid access, you won`t be able to add this activation.
Wait until your access period is over and then buy this activation.
Detailed information on the further use of the digital product will be sent to your email, specified during registration, when we confirm your payment and process your order.